Are you looking for All Season Tyres for your vehicle?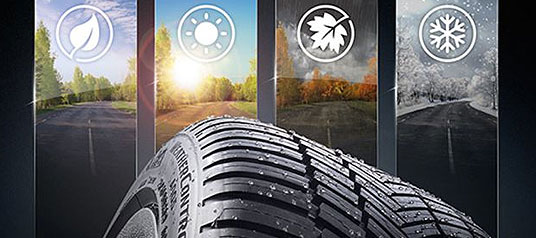 ALL-SEASON TYRES - THE TYRE SOLUTION FOR ALL WEATHER CONDITIONS
All-season tyres are a practical alternative to summer and winter tyres because you can drive the all-weather models in all weather conditions.
If you don't want to change your tyres twice a year, a set of all-season tyres is a good idea.
Buy new all season tyres Market Harborough from us
With us, PBT Supplies Ltd., you can buy all season tyres Market Harborough at low prices, not just in-store but also via our website. Just follow a few simple instructions and choose your favourites. Whether you are looking for premium-, mid-range- or cheap tyres Market Harborough, you will find them right here!
Read more about our range of All-weather tyres Market Harborough plus some interesting facts about the properties of all-season tyres.
FOR EVERY SEASON: THE ADVANTAGES OF ALL-SEASON TYRES
Many car owners prefer all-season tyres. No wonder because these universal tyres have three significant advantages. They save time, money and nerves. You can leave all-weather tyres on your car all year round. You don't have to change tyres in autumn or spring - and you don't have to keep booking a new workshop appointment in mind. All-season tyres eliminate the cost of seasonal tyre changes. You also don't have to buy an extra set of tyres. Last but not least, the tyres save space because there is no need to store summer or winter tyres that are not currently needed.
All-season tyres combine the properties of summer and winter tyres. The tread of an all-weather tyre has both sipes and longitudinal grooves. The tyres can therefore be driven well in summer as well as in winter.
ARE ALL-SEASON TYRES EQUIVALENT TO SUMMER AND WINTER MODELS?
All-season tyres are real all-rounders. They are a good compromise between summer and winter tyres. They guarantee convincing performance on hot days and safety in snow and icy conditions.
However, all-season tyres do not offer the same properties as their seasonal counterparts. The rubber compound of an all-weather tyre is softer than that of summer tyres. As a result, fuel consumption is somewhat higher, and the tyres wear out more quickly. Compared to winter tyres, all-purpose tyres have slightly poorer cornering behaviour and less grip on slippery roads. Nevertheless, all-season tyres are a practical solution for drivers who mainly travel around town all year round.
For those living in an area with relatively mild temperatures in winter and summer, all-weather models surely are a good option. However, those living in regions with low winter temperatures and ice-, slush- or snow-covered roads should definitely use winter tyres.
TREAD DEPTH AND INFLATION PRESSURE FOR ALL-SEASON TYRES
All-season tyres, just like summer or winter tyres, are wearing products. This means that the tyres will eventually wear out. You then have to replace them—the strong indicator: the tyre tread depth. If your all-season tyre has little tread left, it is losing performance, both in summer and winter. You should therefore check the tyre tread regularly. You can certainly also come to your PBT Supplies workshop, and we will do it for you. If you notice too little tread, we recommend replacing the all season tyres Market Harborough in good time.
We hope you have found this short information page useful.
If you have any questions or need advice on which tyres are suitable for your vehicle, please do not hesitate to contact us.