Are you looking for Tyre Size for your vehicle?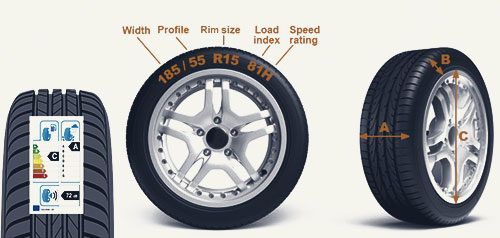 Many vehicle owners can't do much with the numbers and letters shown on a tyre's sidewall.
The tyre size is standardised and can be deciphered quite easily. Here is an example of the tyre size explanation:
195/60 R15 88H
The first three digits - here 195 - stand for the width of the tyre in millimetres.
The second two digits - here 60 - stand for the ratio of height and width in per cent.
The following letter - here R - stands for the tyre's construction type. R stands for a radial tyre.
The next digits - here 15 - indicate the rim dimension and are given in inches.
Finally, there is the load index - here 88 - which indicates how much load per tyre is permissible. In this case, it's 560kg.
The last letter - here T - indicates the maximum speed. T means a max. Speed of 118 mph.
Sometimes there is a "C" at the end of the sequence of letters and numbers. This indicates that the vehicle is a light goods vehicle (HGV). The "C" stands for "commercial".
Tyre size Market Harborough - PBT Supplies
Calculating Tyre Size
If you are looking for suitable tyres for your vehicle, just have a look at our website. We have made purchasing tyres extra easy. You do not need to calculate the tyre size yourself. Just type your vehicle's reg.-number into our tyre search section, and within seconds you will see all available tyres in the right size for your car.
If you have any queries or need advice on which tyres are suitable for your vehicle, please contact us.